TouchPoint and Hand Sanitising Alcohol Wipes
TouchPoint Hand Sanitising Alcohol Wipes kill 99.9% of germs in seconds. They prevent cross-contamination while they sanitise and are more convenient and easy to use. This special formula cleans and sanitises without all the mess. Use these wipes to sanitise touch points and your hands anywhere particularly in medical offices, nursing homes, day care centres, schools, gymnasiums, restaurants and hotels. Formulated with Aloe and antioxidant Vitamin E to moisturise the skin.
Suitable for cleaning frequently touched surfaces including:
• Medical and Lab equipment
• Keyboards and mouses
• Computer screens
• Mobile Phones
• Door Handles
• Benchtops
• Call buttons
• Taps, Toilet buttons, Hand rails.

Automatic Touch Free Refillable Hand Sanitiser Dispenser with Floor Stand
High quality floor stand with 1ltr lockable refillable touch free automatic hand sanitiser dispenser. Stand is made from strong and lightweight aluminium and weighs 11.2kg. H:1200mm x W:315mm.
Automatic Touch Free 1 Litre Refillable Hand Sanitiser Dispensers only are also available.
Please Note: These dispensers are suitable for use with liquid gel sanitiser only.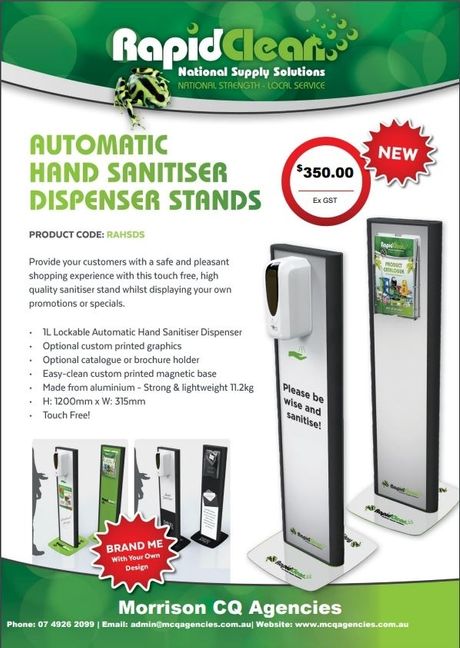 RapidClean Hand Sanitiser Stand and Wall Bracket
Wall Mountable Stainless steel adjustable bottle bracket $40.00 inc gst
Free Standing powder coated Steel stand $176.00 inc gst
Optional Anti-theft System $13.20 inc gst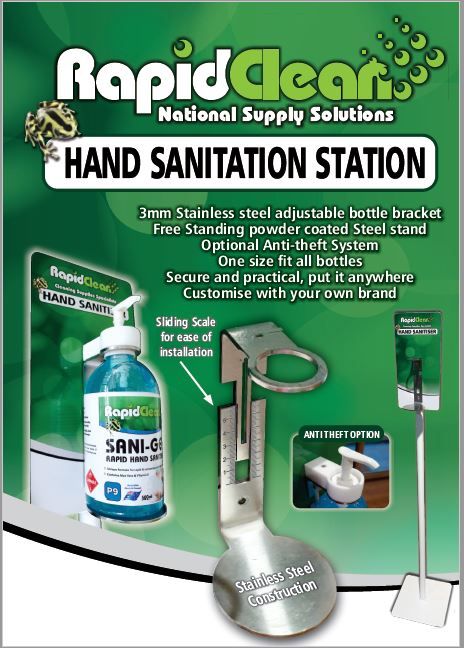 ALCO CLEAN
ALCO CLEAN is a triple action cleaner sanitiser which is used for cleanng and sanitising most hard surfaces. It's triple action of Alcohol, Twin Chain Quaternary Ammonium Compounds and Benzalkonium Chloride have been found to provide superior biocidal action against germs such as bacteria, fungi, viruses and algae.
Directions for Use:
Lightly Soiled Hard Areas - Use as supplied. Apply to surface then wipe away with a clean cloth.
Sanitise by spraying a light film on the surface. Can be used through a misting machine at 1:30 with water.
ALCO DIS
ALCO DIS is a High Alcohol Cleaner and Sanitiser. It is a fast drying, alcohol/quat based, ready to use sanitiser also approved for 'No Rinse' hard surface applications providing the surfaces are thoroughly drained of any residual solution. A one use product for the cleaning and sanitising of specific high contact surfaces where fast evaporation is required. Alco Dis contains 60-90% Isopropyl Alcohol.
Directions for Use:
Apply to surface, wipe away with clean cloth and then spray a light film for long lasting residual.
Use as supplied.
RapidClean Medic Hospital Grade Disinfectant
RapidClean Medic Hospital Grade Disinfectant contains a combination of cleaning agents and highly effective quaternary sanitisers plus a long lasting floral fragrance. Medic will reduce the number of pathogenic organisms to such a level that they are no longer able to initiate an infection. Medic meets the NSW Health Department Standards proposed in the Therapeutic Goods Act.
Medic kills gram positive and gram negative bacteria by the agency of Q.A.C. bactericides and reodourises disinfected surfaces by the agency of its unique residual fragrance.
Medic is TGA and NATA certified according to Therapeutic Goods Order 54 guidelines for hospital grade disinfectants. Medic is a highly active QAC based disinfectant containing a residual floral
fragrance. MEDIC has been specially formulated to clean all hard surfaces and to leave cleaned surfaces germ free.
Directions for Use:
• For disinfecting under clean conditions: dilute Medic 1:100
with clean water.
• For cleaning and disinfecting: dilute Medic 1:40 with water.
• For spray and wipe cleaning: fill trigger spray with diluted
solution. Apply to surface using a clean cloth.
• For bucket cleaning: fill bucket with diluted solution. Apply to
surface, use cloth for small areas, mop for floors.
• Rinse cloth or mop when soiled. Allow surfaces to air dry